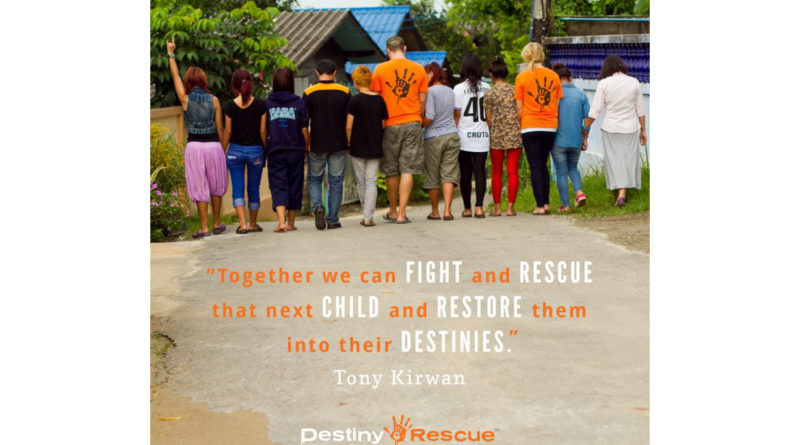 Mission Spotlight – Destiny Rescue
Hundreds of years after the abolition of slavery in many countries, child (and adult) slavery and exploitation is still a world-wide problem.
Child sex tourism is a particularly horrifying, and rapidly growing, trend, affecting millions of children around the globe (including Australia).
There are a growing number of organisations which exist to actively work rescuing children from slavery. They focus on different areas of the world, and often on different types of exploitation, and with different kinds of action.
Some organisations emphasise advocacy and public awareness, informing and enabling consumers to make ethical shopping choices and boycott offending stores, brands and products.
Others work on the front-line, rescuing and restoring children trapped in slavery and exploitation, including the child sex trade. Organisations like Destiny Rescue work to offer children trapped and enslaved in the sex trade new lives of freedom and hope for their future.
Tony Kirwan and his young family were living and working with vulnerable children in Thailand when he became aware of the child-sex trade in Bangkok, and God put the vision of Destiny Rescue onto his heart.
Today, Destiny Rescue is an internationally-recognised Christian non-profit organisation working in Thailand, India, Cambodia, and the Philippines. Hundreds of employees and volunteers are committed to it's mission to rescue children trapped in the sex trade. Over the years Destiny Rescue has helped hundreds of children escape brothels, bars and red-light districts. Rescue Homes have been set up, and children are brought in to be cared for in a safe, loving environment.
What should we do?
give financially and/or give our time, as a volunteer, so rescues can continue


pray, pray pray … for those on the front-line of rescuing child-slaves, and ending child exploitation, for children who have been rescued, and for those who are still trapped


GO – when you hear God's voice, be willing to GO wherever He sends you, to be part of the rescue and care for trapped, vulnerable, hurting children

"Our Mission: To see sex slavery ended in our lifetime." (Destiny Rescue, accessed 25 May, 2018)
---
COVID-19 has had a major impact on the work of Destiny Rescue. Pray for them as they meet this new challenge and find different ways to undertake their mission.

You can find out more about Destiny Rescue, the challenges they are facing, and the part you can play, by visiting their website.